Blog
Details

Hits: 255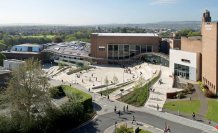 Exeter ranked amongst world's most prestigious universities in latest global league table
The University of Exeter has been recognised as one of the world's top 200 most prestigious universities in an influential league table. 
Exeter has been ranked in the 151-175 category of the latest Times Higher Education World Reputation Rankings 2022, released on October 27th. 
The Times Higher Education rankings are based on the world's largest invitation-only opinion survey of senior, published academics. It asks academics to name the universities they believe are the best for research and teaching in their field, based on their own experience. The latest survey to compile the rankings consisted of  150,000 votes from 10,963 experienced, published academics, providing their views on excellence in higher education research and teaching around the world.  
Results are weighted using UNESCO data to reflect the global distribution of scholars to ensure consistency across response rates, with 19 countries represented in the rankings. 
This is the latest success for the University of Exeter in global league rankings. Earlier this year, it ranked 143rd in the world in the latest Times Higher Education World University Rankings, and also broke into the top 150 in the QS World University Rankings for the first time, securing 149th position. 
The Academic Ranking of World Universities (ARWU) saw the University retain its place amongst the top 200 ranked global institutions, while Exeter also ranked 31st internationally in the CWTS Leiden Rankings, which offers key insights into the scientific performance of the major universities worldwide.  
Date: 27 October 2021
Details

Hits: 268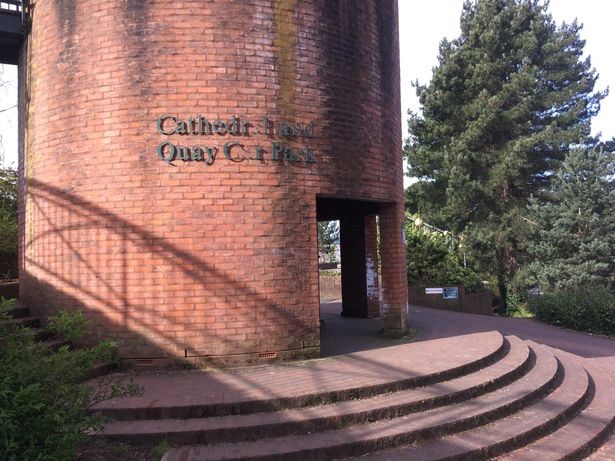 Exeter given £6m boost for major projects
More money than anywhere else in England - for plans around the Cathedral and Quay and Mary Arches car parks,
Exeter has been awarded more money than anywhere else in England for projects that will help use land for new homes and jobs.
Devon and Torbay have been awarded more than £8.4 million of Government funding to help drive economic recovery, with Exeter receiving just under £6m.
Cash will go towards huge plans for the centre of Exeter around the Cathedral and Quay and Mary Arches car parks, as well as for Bonhay Meadows, Belle Isle and Exeter Canal Basin.
Projects in Exeter, Newton Abbot, Dawlish, Brixham, Torquay and Ilfracombe have all been backed through the One Public Estate programme to deliver initiatives which create economic growth by unlocking land for new homes and jobs.
Cllr Rufus Gilbert, Devon County Council's cabinet member for economic recovery and skills, said: "The Devon and Torbay OPE Partnership has successfully received the full amount of its bid in this latest round of funding, highlighting the benefits of working closely together.
"All of these schemes will regenerate and redevelop sites to open up opportunities for housing and economic growth as we look to ensure a strong recovery right across Devon."
The successful bids are:
EXETER
Exeter City Council has been awarded £5,966,470 for the following sites:

Cathedral and Quay car park
• Mary Arches car park
• Bonhay Meadows
• Belle Isle
• Exeter Canal Basin
Exeter Cathedral and Quay car park (Image: Daniel Clark)
Cllr Laura Wright, Deputy Leader of Exeter City Council, said: "This is excellent news for Exeter. This funding will help kick-start some very innovative housing projects which have been identified for key strategic sites in Exeter.
"We need to create more quality homes in the city but, to protect the greenfield ridges surrounding Exeter, we need to prioritise building on previously developed brownfield sites.
"So it is excellent news that the funding is now in place to further progress these important schemes."
Details

Hits: 622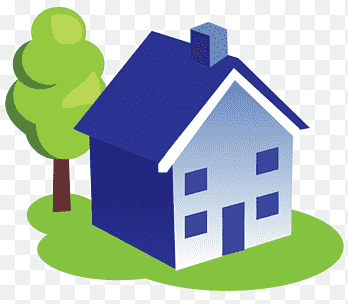 Renting Out Property In 2021: Why Do People Become Landlords?
Renting out property is a big decision and can be challenging. So why do people become landlords? Some fall into it accidentally, whilst others choose a buy-to-let for extra income or a retirement fund. In fact, 38% of landlords told us they let property as a long-term investment (UK Landlord Survey 2021).
There are many other reasons people may choose to let their properties. But what are they?
Renting out an inherited property
Sometimes, landlords fall into renting because they inherited a property from a relative (5% according to the UK Landlord Survey 2021). In 2017, Royal London estimated that £400 billion worth of property was set to be passed from grandparents to younger generations. With an aging population, this figure looks likely to increase.
If they already have a home of their own, many people in this situation choose to let it out. Some decide to sell a home they've inherited, but this can be difficult if the property is old and needs improvement. Renting the property out, whether short or long term, generates income to pay for repairs and redecorating whilst the property value increases over time. Plus, if it has a particularly sentimental value such as being a childhood home, some may prefer to keep the property 'in the family' rather than sell it on.
Letting a property for additional income
In our UK Landlord Survey 2021, 31% of landlords said they let their property as a second source of income. If you already have a full-time job, renting out a property can provide a steady secondary income on top of your monthly salary.
If you own the rental property outright, the monthly rent payments can be a big boost. If you don't, the money can cover the mortgage and maintenance of the property. Any money left over after expenses goes straight into your pocket.
A huge benefit of receiving a rental income is the financial security it can provide. Getting a consistent monthly recurring revenue is a number one priority for 43% of landlords (UK Landlord Survey 2021
Renting out your property instead of selling
If you're ready to move, but the market conditions aren't favourable, you can rent out your property instead of selling it for a loss. Renting gives you time to reconsider your options, whilst making some extra cash, then you can sell once you are in a position to make a profit, or at least not a loss.
Renting out property as a long-term investment
Demand for rental properties is high, especially amongst the younger generation. The UK's rental sector is continuously expanding, with a sixth of the population now living in rented accommodation from private landlords. As such, there is plenty of scope for making money from buy to let properties
According to our UK Landlord Survey 2021, 35% of landlords let their property as a means to fund their retirement or pension. Investing in property allows you to invest without risking too much capital, as you can secure finance. The value of your property will still increase based on the entire investment, which can result in significant profit, giving you options and providing further financial security.
Details

Hits: 428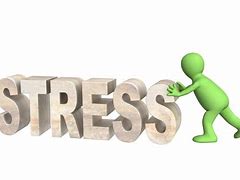 One of the many reasons to use a professional Letting Agent to manage your Investment property as we at Cooksleys provide a full 24 hour service with much trusted qualified Contractors who cover all fields including out of Hour services and competitive quotes where needed pre works to be carried out .
.................................................................
Landlord Causes of Stress:
Handling maintenance issues Solving maintenance issues can be a significant cause of stress for landlords. Keeping the property and the tenant safe is a landlord responsibility, but arranging maintenance work can be tricky, particularly for emergencies that require a fast response. 59% of landlords revealed they found managing maintenance issues to be moderately or extremely difficult. Specifically, getting a good price from contractors proved most challenging, with 78% of landlords finding this difficult. A close second was finding a reliable contractor at 72% (UK Landlord Survey 2021). Preparing a list of reliable tradespeople makes things much easier. We recommend having at least two dependable professionals for each maintenance area. Whether a plumber, electrician or gardener, relying on a single contractor is risky. And if they're good at their job, they aren't likely to be available at short notice. .If it's a big emergency – like a burst pipe or broken boiler – Home Emergency Cover is a real lifesaver. Instead of contacting you, your tenant can ring the emergency helpline and get a contractor out straight away.
Details

Hits: 440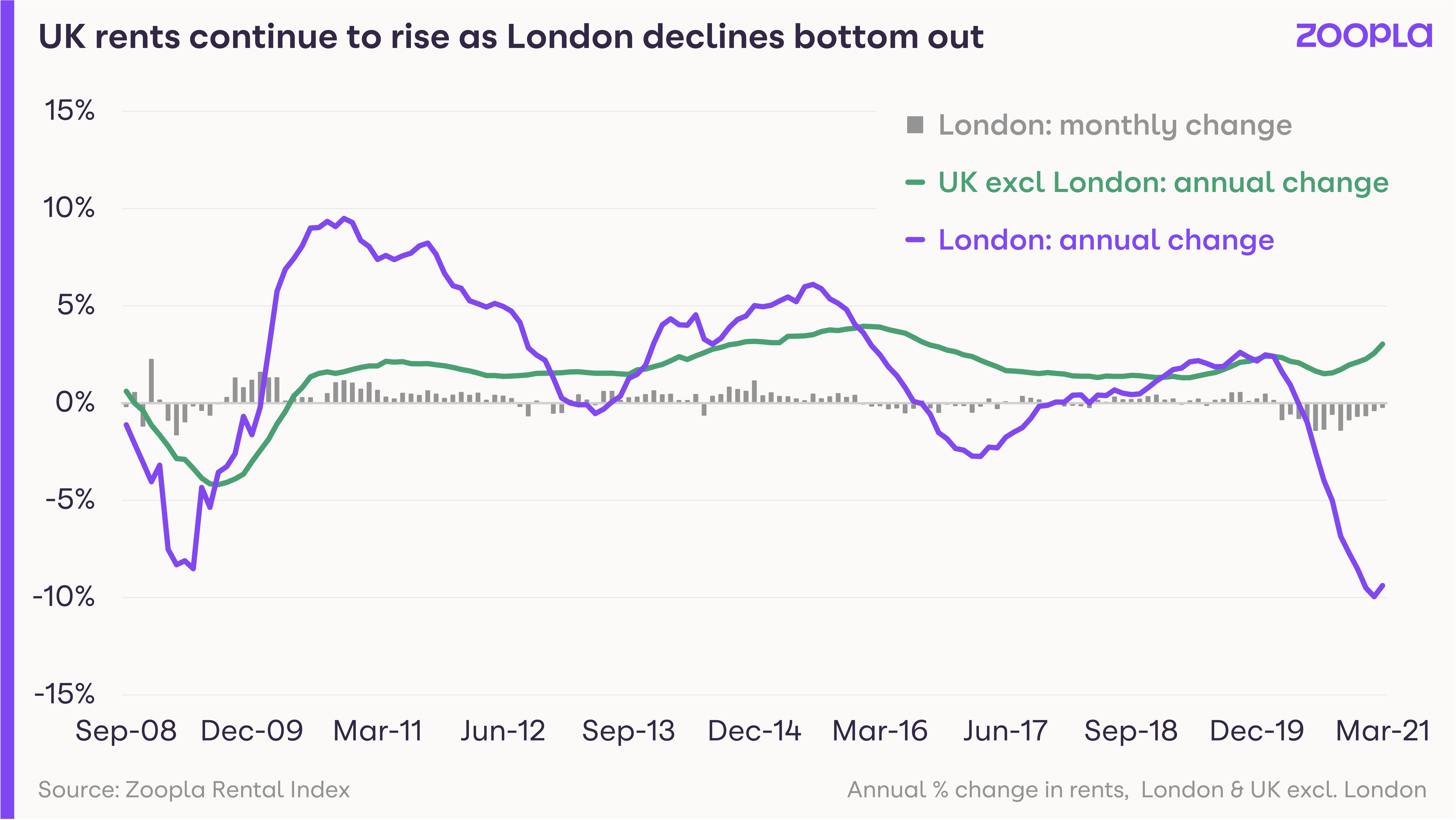 Rents are rising fastest in the north east and the south west amid high levels of tenant demand and a shortage of homes to rent.
Rents outside London are rising at their fastest pace for four-and-a-half years boosted by strong tenant demand as lockdown eases and offices reopen.
The average cost of renting a home in the UK outside London rose by 3% year-on-year in the first three months of 2021 to stand at £780 per month.
Meanwhile, in London, rents were down 9.4% compared with a year earlier.
The high levels of demand from tenants, combined with a shortage of rental homes, meant the average property took just 16 days to let, according to our latest Rental Market Report.
Archived blog posts